Trends
Terrazzo is a traditional product which has now been revamped and is very much in vogue, thanks to the great variety of colours, formats and personalities it can offer a bathroom. This is a re-released classic, above all in our case, as it allows unique and customised designs. Join this trend revitalising quartz with a constellation of coloured stones to infuse you with energy and well-being like a bag of sweets.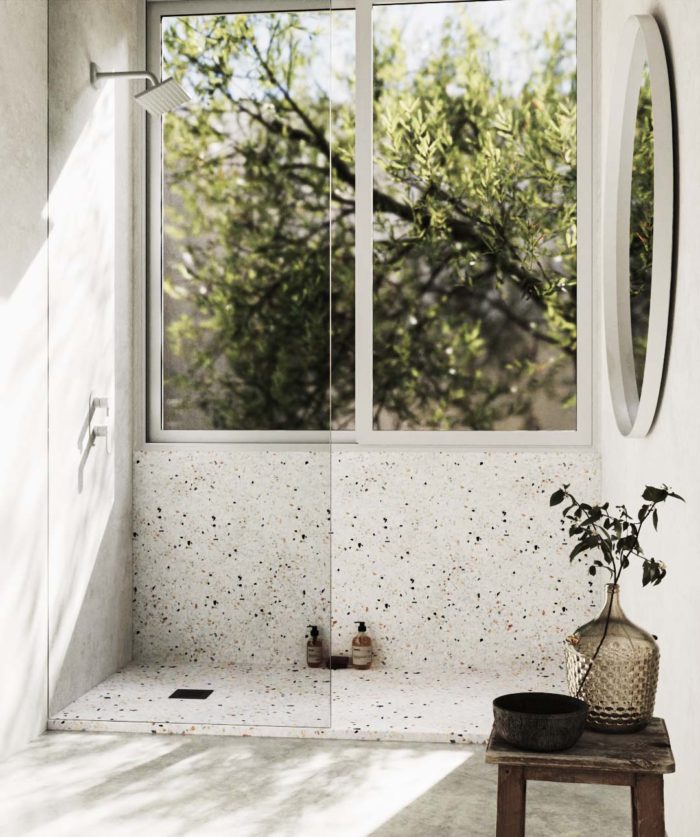 Settings
A harmonious setting between the shower tray and the half wall up to the level of the window, with views of the natural world outside, while enjoying the daily well-being offered by water and a splash of colour.
Metallic tap fittings and a drainage grille which matches the boiled sweet colours. Aside from the step design seen in this composition, surface format drainage is also available.
Terrazzo – Join in the quartz trend – Deco collection
Terrazzo is the final member left to show you from the Deco collection, our most daring and original collection. It is made up of the shower tray models: Kubik, Loop, Nostalgy, Ocean, Pyramid and Terrazzo.
Loop, Nostalgy and Pyramid are old friends now, but presented in new settings; while we have already told you about Kubik and Ocean in depth.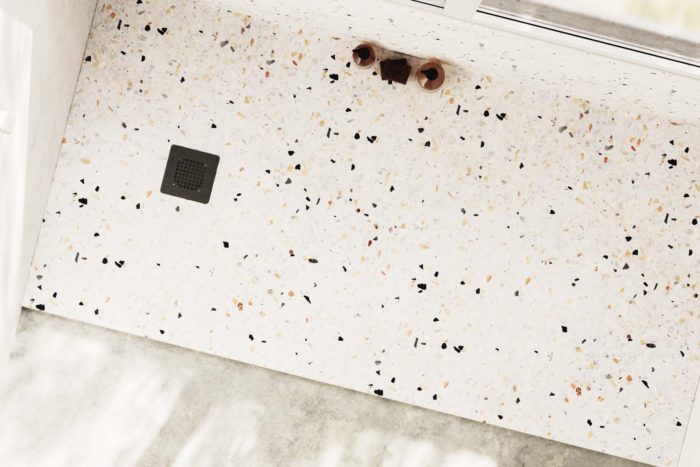 2021 bathroom trends: Print Custom Art
Our Print range fits in with the new bathroom trends for 2021, while also offering you the chance to create the shower tray of your dreams, with a design tailored to your needs. Even if you have never seen it before, we can make it.
More from our Deco collection on our Pinterest.
Other references of interest that could help inspire you, the way they inspire us.